The Pride of Hillsborough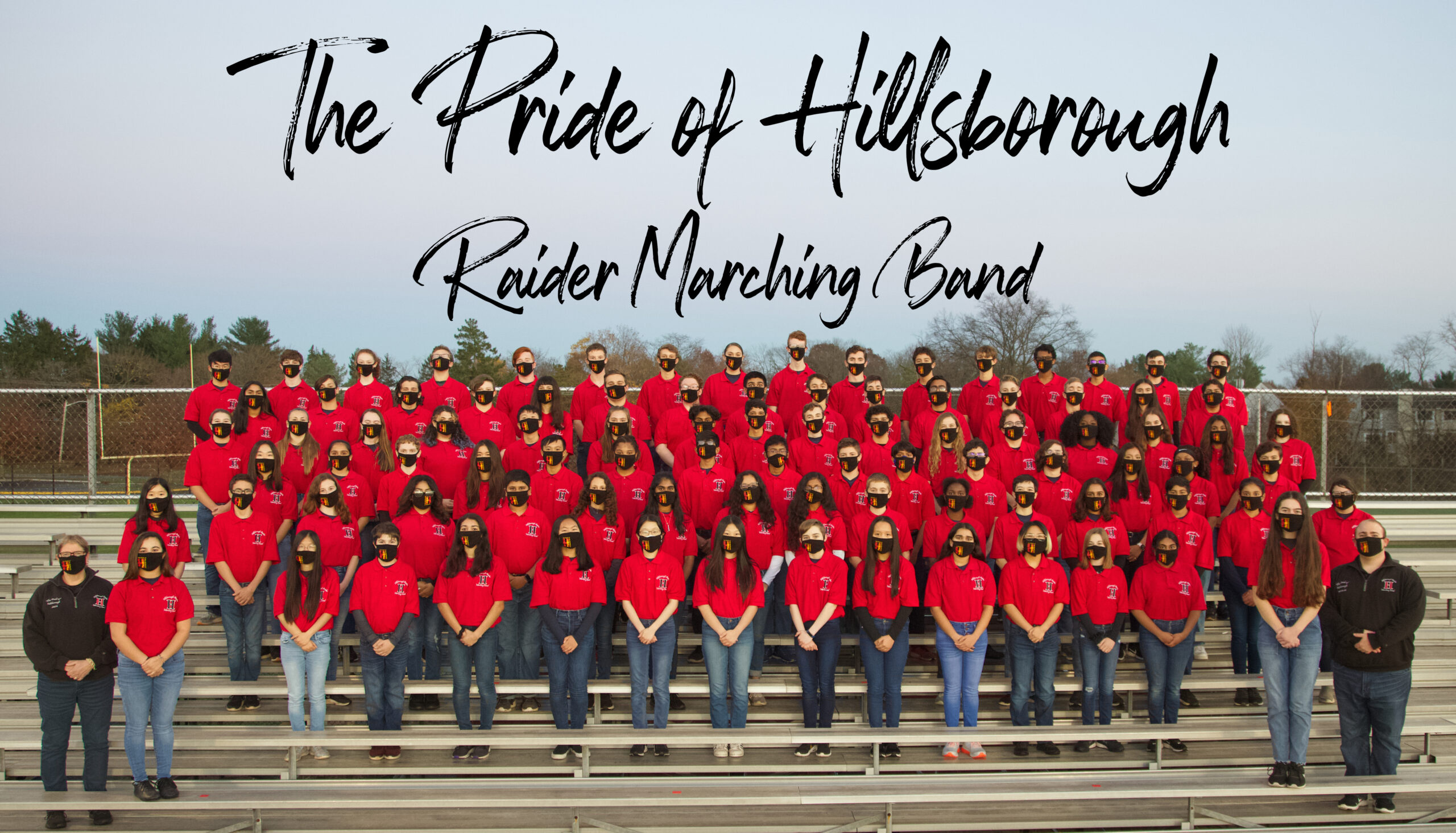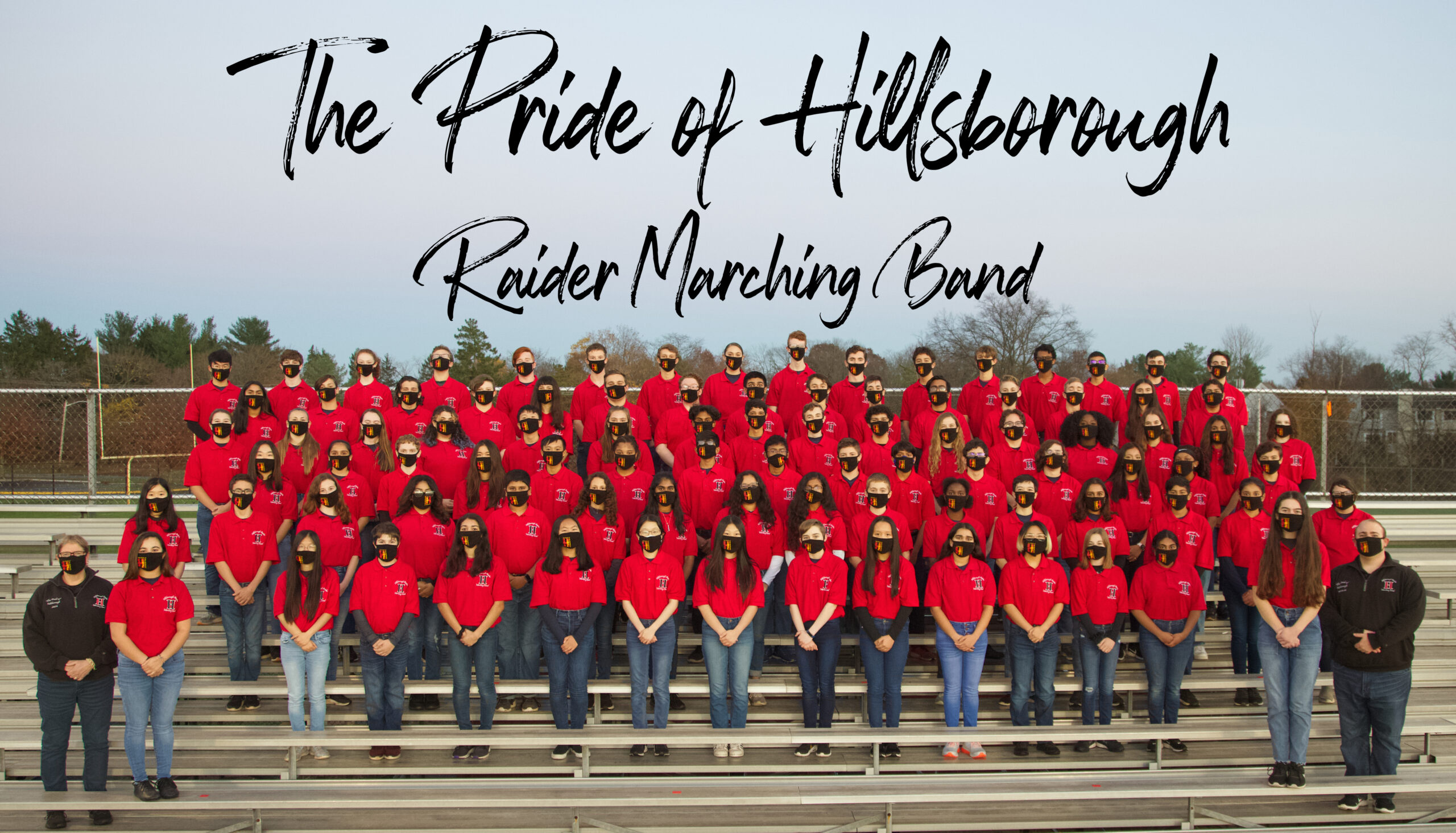 CHARACTER
PRIDE
TEAMWORK
LEARNING
MUSICIANSHIP
HONOR
LEADERSHIP
DISCIPLINE
FRIENDSHIP
2020 Pride of Hillsborough: "An Unforgettable Year"
2019 Pride of Hillsborough: "The Dawn of Darkness"
Video Credit: Mr. Michael McHugh & various HHS Film Students
2018 Pride of Hillsborough: "Your Life's Blueprint"
Video Credit: Mr. Michael McHugh & various HHS Film Students
2017 Pride of Hillsborough: "Imagination"
Video Credit: Mr. Michael McHugh & various HHS Film Students
2016 Pride of Hillsborough: "Lincolnshire Posy"
The Pride of Hillsborough
The Pride of Hillsborough Raider Marching Band is a competitive marching band. It explores the latest trends in competitive marching band. The "Pride" is an extra-curricular offering for Band Students at Hillsborough High School and Hillsborough Middle School.
Goals
"Pride" Marching Band provides an outlet for students interested in the realm of 'state of the art' design, performance, social, and competitive opportunities.
Membership
Membership is voluntary into this extra-curricular ensemble.  Eligible students must be in 7th-12th grades.
ALL Marching Band members are considered "Varsity" players, regardless of grade level.  There is no JV or Freshman level Marching Band.  When competing, a judge or audience member does not know if a student is a Freshman or a Senior.  ALL Marching Band members make a difference…ALL Marching Band members are equal contributors…ALL Marching Band members share an equal role in becoming a champion (whether a "championship" is won with a trophy or not is unimportant – the process, the journey, and the feeling are what determine a true champion).
Marching Band members are eligible to receive a Varsity Letter after two complete years of participation…at least one of those years must be completed as a high school student.  Ex. A student who joins their 7th grade year will receive their Varsity Letter after they complete their year as a 9th grader.
Performances
The Raider Marching Band performs at halftime of all home varsity football games and perform as a "Pep-Band" at all away varsity football games (travel schedule permitting).  The Pride of Hillsborough Raider Marching Band also performs at all competitive contests and festivals; approx. 5 contests per season. The Pride of Hillsborough also performs at the Hillsborough Township Memorial Day Parade, which always falls on the Saturday of Memorial Day Weekend.
Rehearsals
Since the 'Pride' is an extra-curricular activity, its rehearsal schedule falls entirely outside of the typical school day.  Pride rehearsals are as follows, but not limited to:
Parade Rehearsals: Three Mondays/Wednesdays in May leading up to Memorial Day Weekend usually from 5-7pm (times fluctuate between 4:30 & 7pm depending on other Band Events scheduled in May.)

Summer Rehearsal:  Approx. 12 hours of rehearsal during June and July (2 or 3 rehearsals in June before school lets out and 1 rehearsal in July).  August Rehearsals are every Monday (5-8pm) & every Wednesday (4:30-8pm). We understand that families generally schedule vacations throughout the summer months.  A student is allowed to miss rehearsal for a family vacation as long as they email the directors at least 3 weeks in advance. If the student is in town, they are expected to

Mini Band Camp (held at Hillsborough HS): Always the 3rd week of August (Monday-Wednesday 10-6pm).  Mini camp is absolutely mandatory for all Marching Band Members.

Band Camp:  Always the last week of August (Sunday to Thursday or Monday to Friday – depending on calendar & availability at the camp) – Sleep-Away Camp at Camp Cayuga in Honesdale, PA.  Band Camp is absolutely mandatory for all Marching Band Members.

School Day Rehearsals:  August through November – Mondays 5-8pm, Wednesdays 4:30-8pm, Fridays 2:30-5pm, & Saturdays generally 4 to 6 hours before a competition and on Saturdays without a contest, the rehearsal schedule is generally 10-4pm.

Sectional Rehearsal:  Captains usually hold these on their own throughout the summer months.

Rehearsal and performance dates and times will be provided to each student that gains membership into the 'Pride' as well as posted on the internet.
Fees/Costs
Each Pride member's costs and fees are based on but not limited to the following:
Uniform Accessories:  Each student member purchases their uniform shoes (Drillmasters), Performance Polo, and Black Baseball Cap.  These items are ordered as a group to achieve the lowest possible discount pricing to each student.

Band Students Only: 1 Pair of Gloves are provided to each student.  Replacement Pairs are $4/pair (cash only)

Band Students Only: Students must participate in the Dry Cleaning Service offered by the Hillsborough Band Parents Association in conjunction with Centre Cleaners.  We collect a $35 deposit with the Marching Band Commitment Form in April & the remaining balance is collected in August at the Pot Luck Dinner before Band Camp.

Band & Guard Students: 1 Uniform Show T-Shirt is provided to each student.  Band Students MUST wear this under their uniform at every performance. Extra Show T-Shirts are available for purchase ($20/shirt), but supplies of the Show T-Shirt are very limited & while supplies last.  It is highly recommended that students purchase an extra Show Shirt as students will need to wear them on Friday & Saturday nights.

Trip Food:  The Hillsborough Band Parent Association offer a food delivery service to alleviate the need for parents to send in food for the student at every performance (football game or competition).  The members are fed before every football game performance and before all contests.

All Football Games: 3rd Quarter Snack is provided by our HBPA.  We ask that every student either donate a snack weekly or provide a $35 contribution for the season.  The HBPA will be purchase snacks for the Marching Band on a weekly basis to "fill-in" where the donations fall short.

Out-of-State contests:  Each member pays or fundraises their share of the overall cost for the 'Pride' to travel to an out-of-state event.  This cost includes transportation, lodging, meals, etc. for the entire trip.

Color Guard Fees:  Because of the continual evolution of the Color Guard program it is difficult to foresee exact costs to guard members.  However, typical costs include: Summer Instruction Fee, Practice Uniform, Performance Shoes, and Specialized Equipment.